Note, You can click on any picture to get a bigger view then hit your browser back button to get back to our blog.
We decided to head back to Florida again this fall & winter and bring our lightweight Mad River canoe and our Burley Tandem Bicycle.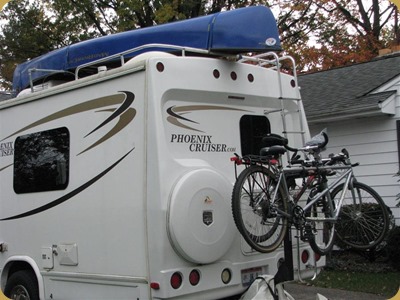 We hope to do some Rails-to-Trails in VA, NC and GA on our way south. All of our plans can change depending on the weather. Last year it was cold & rainy so we skipped most of our northern plans. Here are some maps showing our route planning up to Christmas.
1 Home, 5 Galax & VA Creeper Trail – Map 1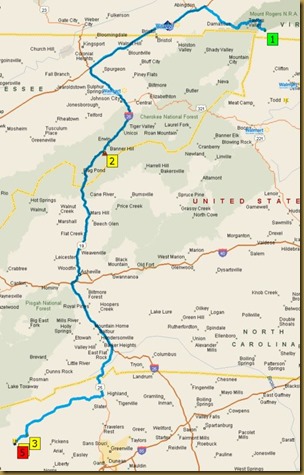 We then plan to visit Greg & Sandy in SC.
1 VA Creeper Trail,
5 Greg & Sandy's in SC – Map 2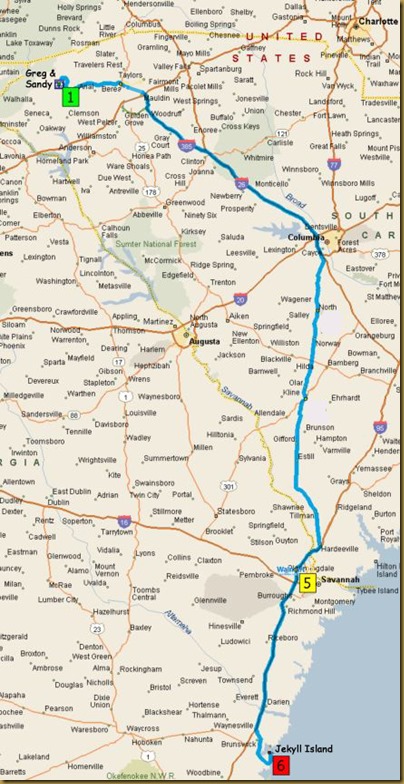 We then will head to the coast of GA, trying to avoid the Interstate highways. We picked Jekyll Island, GA as a good place to start our trip since the weather in mid-November is usually warm and they have really nice bike trails that circle the island.
6 Jekyll Island GA - Map 3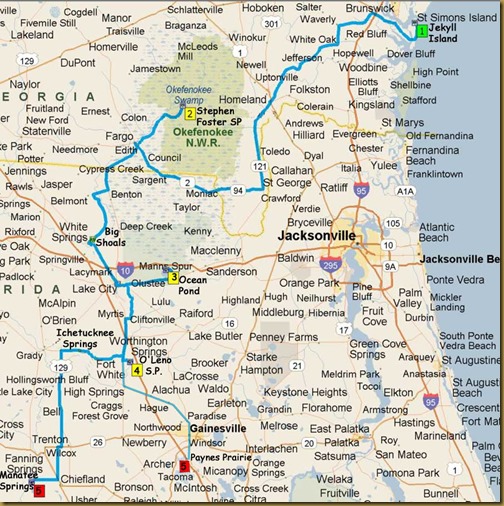 When we leave 1 Jekyll Island – Map 4 we will head back to our favorite campgrounds in GA & Northern FL. Our next camp spot where we will spend Thanksgiving is still in GA in the Okefenokee Swamp. Usually in late November the mosquitos should be gone. It's our first opportunity to get back in our canoe again.
2 Stephen Foster State Park now allows individual campsite reservations, we will be in #16 our favorite since I can use our light weight wheeled canoe carrier to get the canoe to the water without carrying it a long distance or moving the RV.
After the holiday weekend we should be able to get a site in 3 Ocean Pond campground in the Osceola National Forest. Last year the place was packed over the holiday, but most campers leave on Sunday. We then plan to head a little further south to some Florida State Parks, 4 O'Leno, Ichetucknee Springs, and possibly 5 Payne's Prairie if it reopens, staying a few days and doing some canoeing & biking
We will be back at Silver Lake - Site 47 on December 8th and then drive to the KOA near the Orlando airport where we will leave our RV in storage to fly home to spend Christmas with our big family.
Any friends that care to join us along the way, now is the time to let us know. On all of our campsites we can share with a second vehicle, since we don't pull a car with us.